NISSIN IRVINS BOWL MALA SALTED EGG FLAVOUR
NEW
NISSIN IRVINS BOWL MALA SALTED EGG FLAVOUR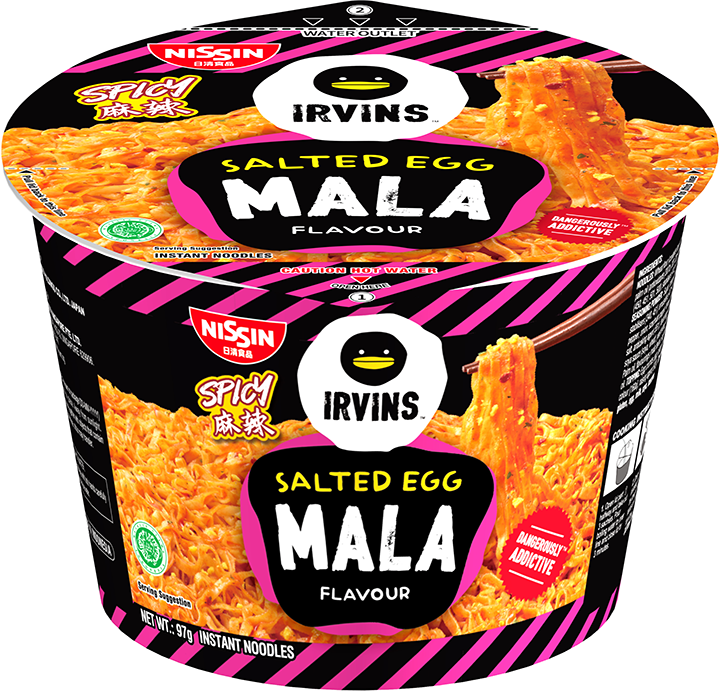 Fans of Mala! Indulge in the numbing sensation of Mala Flavour & the popular IRVINS salted egg flavour, well mixed with smooth and chewy texture of classic mee pok, topped with delicious egg crumbs! DOUBLE ADDICTIVE!!!
Ingredients
Noodles
Wheat flour (contains iron, zinc, vitamins [B2, B1, folic acid]) (63%), palm oil (antioxidants [307b, 320, 321]), tapioca starch, salt, acidity regulators (450, 451, 501, 500), stabilisers (412, 414), colour (160a), emulsifier (1450).

Seasoning Powder
Sugar, creamer (glucose, palm fat, sodium caseinate, stabilisers [340, 451], emulsifiers [471, 481]), spices (chilli, garlic, coriander, pepper, onion, szechuan pepper, fennel), salted egg, flavour enhancers (621, 635), salt, anticaking agent (551), flavourings (paprika oleoresin, stabilisers [1400, 501]), soya sauce (soya, wheat), yeast extract (barley), colour (150a).

Seasoning Oil
Palm oil, flavourings (mala flavour, salted egg flavour, paprika oleoresin), sesame oil.

Topping
Egg crumbs (egg, potato starch, sugar, acidity regulator [451], colour [160a], raising agent [503]).

Nutritions
Average quantity per serving [97g]
Energy
1930kJ (460kcal)
Protein
8.2g
Total fat
25.6g
Saturated fat: 12.0g
Trans fat: 0.0g
Carbohydrate
49.0g
Sugars: 6.7g
Sodium
1460mg
Average quantity per 100g
Energy
1990kJ (470kcal)
Protein
8.4g
Total fat
26.4g
Saturated fat: 12.4g
Trans fat: 0.0g
Carbohydrate
50.5g
Sugars: 7.0g
Sodium
1510mg
Allergen
This product contains cereals containing gluten, egg, milk, soya, sesame.