MYOJO QUICK CUP CHICKEN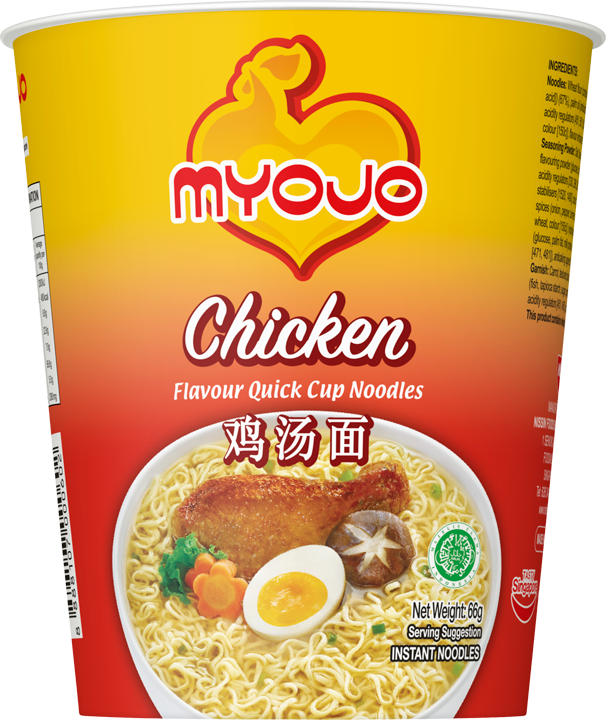 Broth with chicken taste and aroma.
Ingredients
Noodles
Wheat flour (contains iron, zinc, vitamins [B2, B1, folic acid]) (67%), palm oil (antioxidants [320, 321]), tapioca starch, salt, acidity regulators (451, 501, 500), soya sauce powder (soya, wheat, colour [150c]), flavour enhancer (621), glucose.

Seasoning Powder
Salt, flavour enhancers (621, 635), sugar, flavouring powder (glucose, chicken, yeast extract, egg, sesame, acidity regulators [330, 296, 262, 332, 340, 327, 334, 501, 339, 504], stabilisers [1520, 1400], colour [150d], antioxidants [307c, 320]), spices (onion, pepper, turmeric, shallot), soya sauce powder (soya, wheat, colour [150c]), hydrolysed plant protein (soya), creamer (glucose, palm fat, milk protein, stabilisers [340, 451], emulsifiers [471, 481]), anticaking agents (551, 554).

Garnish
Carrot, textured plant protein (soya, colour [150d]), fishcake (fish, tapioca starch, sugar, paprika oleoresin, imitation crab flavour, acidity regulators [451, 450], colour [120]), spring onion.

Nutritions
Average quantity per serving [66g]
Energy
1320kJ (310kcal)
Protein
5.8g
Total fat
15.1g
Saturated fat: 5.2g
Carbohydrate
38.7g
Sugars: 3.3g
Sodium
1570mg
Average quantity per 100g
Energy
2000kJ (480kcal)
Protein
8.8g
Total fat
22.9g
Saturated fat: 7.9g
Carbohydrate
58.6g
Sugars: 5.0g
Sodium
2380mg
Allergen
This product contains wheat, egg, fish, soya, milk, sesame.