MYOJO BEE HOON THAI TOM YAM
MYOJO BEE HOON THAI TOM YAM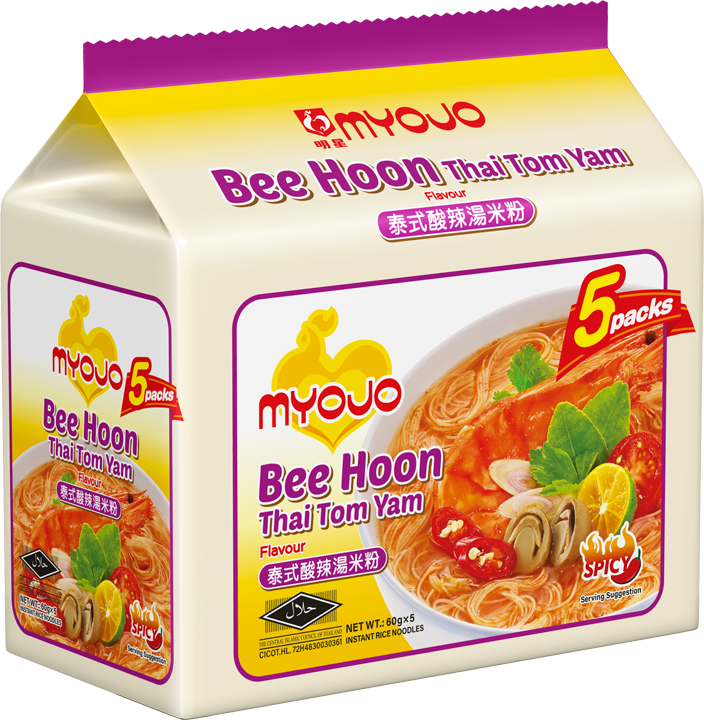 Clear chewy rice vermicelli in spicy Yom Yam soup. Spicy and sour taste caters to Singaporeans' taste preferences.
Ingredients
Rice Vermicelli
Rice (97%).

Seasoning Powder
Salt, sugar, flavour enhancers (621, 635), chilli, acidity regulator (330), stabiliser (1400), spring onion, flavouring powder (lemon flavour [soya], lemongrass, anticaking agent [551]).

Seasoning Paste
Palm oil (contains antioxidant [307b] and soya), spices (lemongrass, chilli, kaffir lime, garlic), shrimp, salt.

Nutritions
Average quantity per serving [60g]
Energy
970kJ (230kcal)
Protein
4.2g
Total fat
3.7g
Saturated fat: 1.8g
Carbohydrate
44.9g
Sugars: 3.3g
Sodium
1960mg
Average quantity per 100g
Energy
1610kJ (380kcal)
Protein
7.0g
Total fat
6.2g
Saturated fat: 2.9g
Carbohydrate
74.8g
Sugars: 5.6g
Sodium
3270mg
Allergen
This product contains crustacean, soya.