MYOJO BEE HOON CHICKEN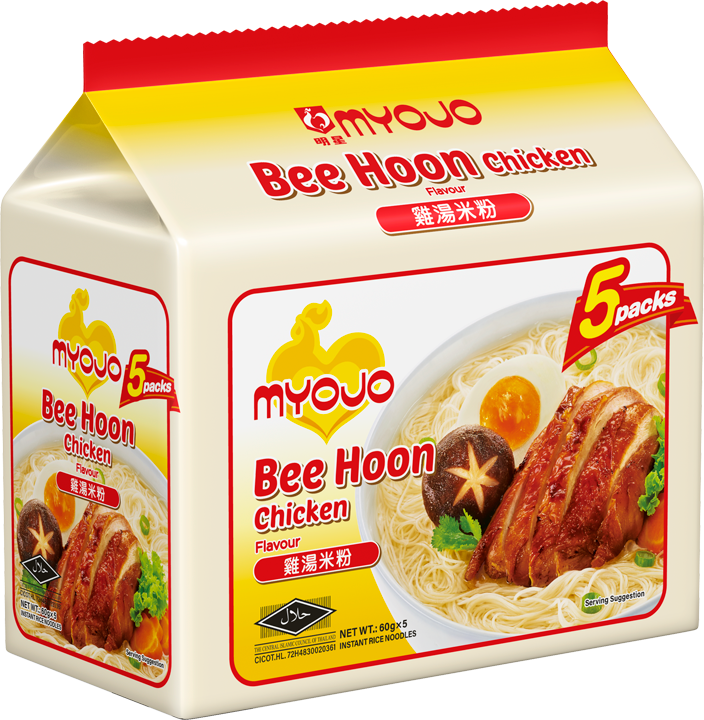 Bee Hoon Chicken is part of the Rice Noodles range and is made to relish your noodle experience with diversity of choice. Its light taste will match your palate and soothe your senses.
Ingredients
Rice Vermicelli
Rice (97%).

Seasoning Powder
Salt, sugar, spices (garlic, pepper, paprika oleoresin), flavour enhancers (621, 635), imitation chicken flavour (wheat, soya), spring onion, stabiliser (1400), colour (150c).

Seasoning Oil
Palm oil (contains antioxidant [307b] and soya), shallot.

Nutritions
Average quantity per serving [60g]
Energy
990kJ (230kcal)
Protein
4.3g
Total fat
3.8g
Saturated fat: 1.8g
Carbohydrate
45.7g
Sugars: 2.0g
Sodium
1270mg
Average quantity per 100g
Energy
1640kJ (390kcal)
Protein
7.2g
Total fat
6.3g
Saturated fat: 3.0g
Carbohydrate
76.2g
Sugars: 3.4g
Sodium
2120mg
Allergen
This product contains wheat, soya.