NISSIN GRANOLA MATCHA 500g
NISSIN GRANOLA MATCHA 500g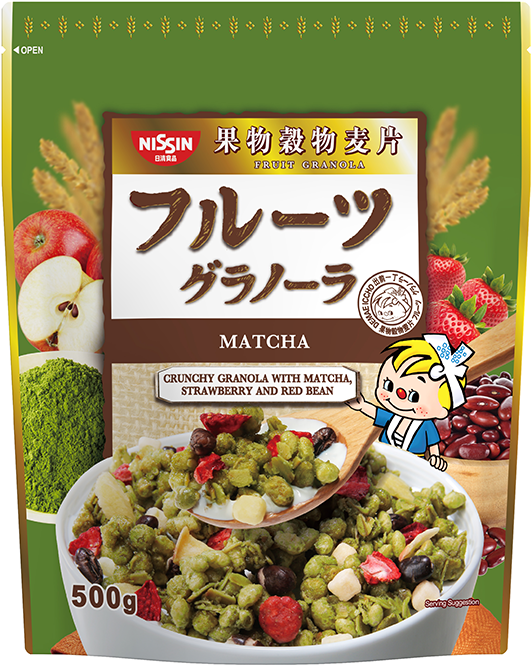 Crunchy bite grains coated with rich and fragrant UJI matcha powder and additional ingredients like red bean, strawberry and apple. If you seek something new, it will be a good choice.
Ingredients
Oats (23%), Wheat Flour (22%), Vegetable Oil, White Sugar, Water, Corn Grits (5%), Red Bean (4%), Maltodextrin, Dried Fruits [Strawberry (2%), Apple (1%)], Coconut Flakes, Black Wheat Powder (2%), Polydextrose, Pumpkin Seeds, Salt, Matcha Powder (0.5%), Almond, Lactose, Calcium Carbonate, Spinach Powder, Soya Powder, Brown Rice Powder (0.1%), Vitamin C, Flavour and Flavouring, Emulsifier (471), Wheat Bran (0.07%), Rice Powder, Rye Powder (0.07%), Antioxidant (307b), Corn Syrup (0.05%), Ferric Phosphate, Milk Protein, Vitamin B5, Vitamin B6, Vitamin B1, Folic Acid, Vitamin D, Vitamin B12.

Nutritions
Average quantity per serving [40g]
Energy
752kJ (179kcal)
Protein
3.3g
Total fat
6.8g
Saturated fat: 2.8g
Carbohydrate
28.4g
Sugars: 7.6g
Sodium
128mg
Average quantity per 100g
Energy
1800kJ (448kcal)
Protein
8.3g
Total fat
17.0g
Saturated fat: 7.0g
Carbohydrate
71.0g
Sugars: 19.0g
Sodium
320mg
Allergen
This product contains soya beans, milk, tree nuts, cereals containing gluten and their products.