NISSIN GRANOLA FRUIT 500g
NISSIN GRANOLA FRUIT 500g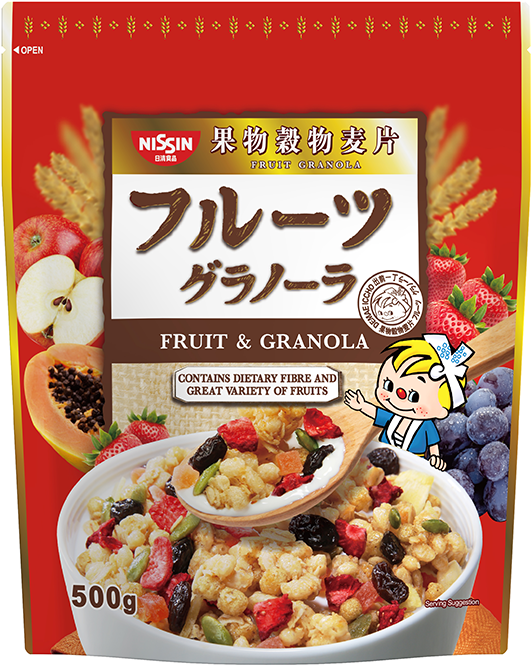 Crunchy bite grains go well with 5 variety of fruits like papaya, raisin, strawberry, apple and coconut. Enjoy this fruit flavour during busy morning.
Ingredients
Oats (22%), Wheat Flour (20%), White Sugar, Vegetable Oil, Dried Fruits [Papaya (3%), Raisin (3%), Strawberry (1%), Apple (1%)], Coconut Flakes (5%), Water, Corn Grits (4%), Maltodextrin, Black Wheat Powder (1%), Polydextrose, Almond, Pumpkin Seeds, Salt, Calcium Carbonate, Lactose, Soya Powder, Brown Rice Powder (0.1%), Vitamin C, Wheat Bran (0.06%), Rice Powder, Rye Powder (0.06%), Antioxidant (307b), Corn Syrup (0.05%), Emulsifier (471), Ferric Phosphate, Flavour and Flavouring, Milk Protein, Vitamin B5, Vitamin B6, Vitamin B1, Folic Acid, Vitamin D, Vitamin B12.

Nutritions
Average quantity per serving [40g]
Energy
769kJ (183kcal)
Protein
2.9g
Total fat
7.7g
Saturated fat: 3.2g
Carbohydrate
27.5g
Sugars: 8.7g
Sodium
111mg
Average quantity per 100g
Energy
1923kJ (458kcal)
Protein
7.3g
Total fat
19.3g
Saturated fat: 8.0g
Carbohydrate
68.8g
Sugars: 21.8g
Sodium
278mg
Allergen
This product contains soya beans, milk, tree nuts, cereals containing gluten and their products.