NISSIN CHU QIAN YI DING BAR NOODLE KYUSHU TONKOTSU
NISSIN CHU QIAN YI DING BAR NOODLE KYUSHU TONKOTSU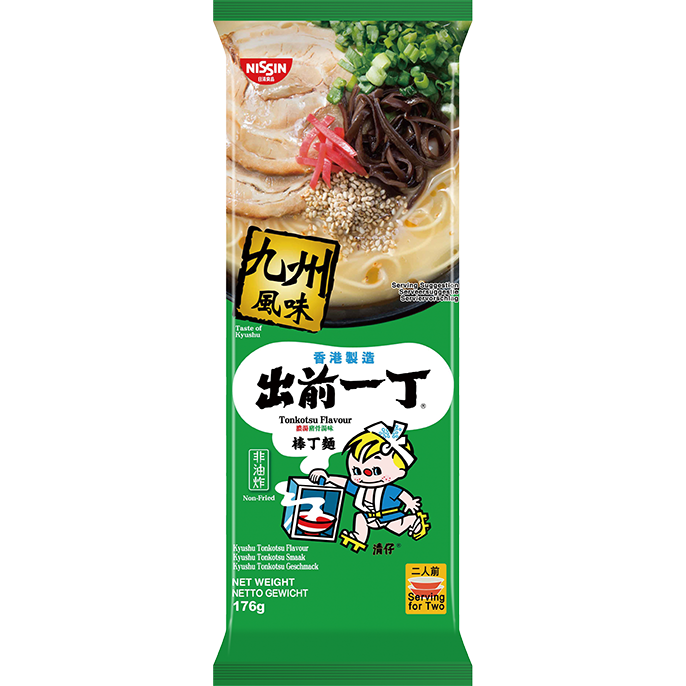 Rich tonkotsu soup with a hint of sesame oil aroma goes well with straight non -fried noodles. You can feel "KYUSHU" style tonkotsu ramen at home.
Ingredients
Noodles (79.1%)
Wheat flour, water, salt, acidity regulator (500), turmeric powder.

Soup Base
Creamer [glucose syrup, hydrogenated palm oil, milk protein, acidity regulator (340), emulsifier (471), anticaking agent (551)], white sugar, flavour enhancers (621, 635), salt, yeast extracts, sesame seeds, soya sauce powder (soya beans, wheat, salt), garlic powder, flavours (contains soya beans, eggs, wheat, sesame seeds), onion powder, dehydrated green onion, chinese cabbage powder, kelp powder, spices, thickener (466), clam extract [clam, maltodextrin, anchovy, salt, flavour enhancer (621)], bonito powder [bonito, flavour enhancer (621)], anticaking agent (551).

Seasoning Oil
Palm oil [contains antioxidant (307b)], sesame oil, garlic oil [rapeseed oil, garlic, antioxidant (307b)], flavours (contains peanuts, soya beans).

Nutritions
Average quantity per serving [88g]
Energy
1370kJ (319kcal)
Protein
10.5g
Total fat
6.7g
Saturated fat: 2.3g
Carbohydrate
54.1g
Sugars: 6.3g
Sodium
1940mg
Average quantity per 100g
Energy
1550kJ (362kcal)
Protein
11.9g
Total fat
7.6g
Saturated fat: 2.6g
Carbohydrate
61.5g
Sugars: 7.2g
Sodium
2200mg
Allergen
Contains peanuts, milk, eggs, sesame, fish, molluscs, soy and wheat. May contain lupin.