NISSIN CHU QIAN YI DING TOM YAM
NISSIN CHU QIAN YI DING TOM YAM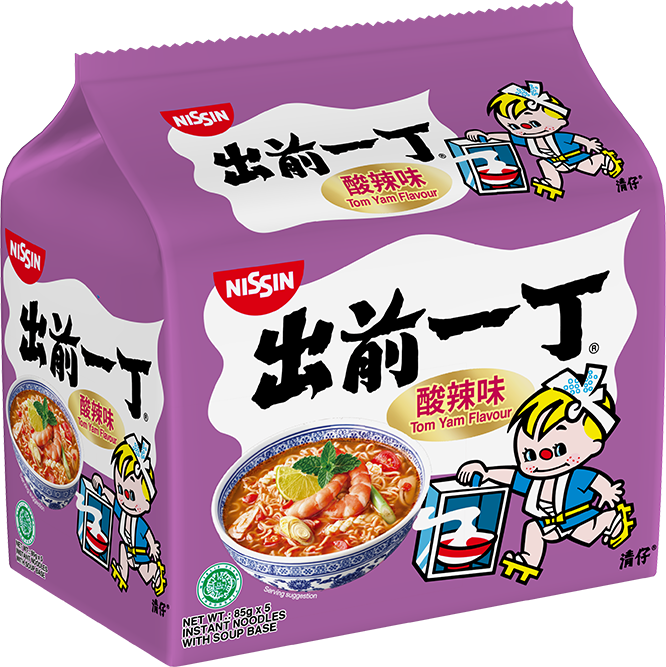 Combination of hot chilli & fresh lime flavoured soup with springy noodles.
Ingredients
Noodles
Wheat flour (contains iron, zinc, vitamins [B2, B1, folic acid]) (77%), palm oil (antioxidants [307b, 320, 321]), salt, acidity regulators (450, 500, 451), stabilisers (412, 414), colour (160a), emulsifier (1450).

Seasoning Powder
Salt, sugar, flavour enhancers (621, 635), spices (chilli, coriander leaves), acidity regulator (330), flavourings (shrimp, fish, hydrolysed plant protein [soya], stabiliser [1400]), colour (150c).

Seasoning Paste
Palm oil, sugar, spices (kaffir lime leaves, lemongrass, chilli, onion, garlic), shrimp, salt, fish sauce, acidity regulator (330), lime, preservative (211).

Nutritions
Average quantity per serving [85g]
Energy
1510kJ (360kcal)
Protein
8.2g
Total fat
12.4g
Saturated fat: 5.5g
Carbohydrate
53.8g
Sugars: 5.3g
Sodium
2250mg
Average quantity per 100g
Energy
1780kJ (420kcal)
Protein
9.7g
Total fat
14.6g
Saturated fat: 6.4g
Carbohydrate
63.3g
Sugars: 6.2g
Sodium
2650mg
Allergen
This product contains wheat, crustacean, fish, soya.