MYOJO HOT CHICKEN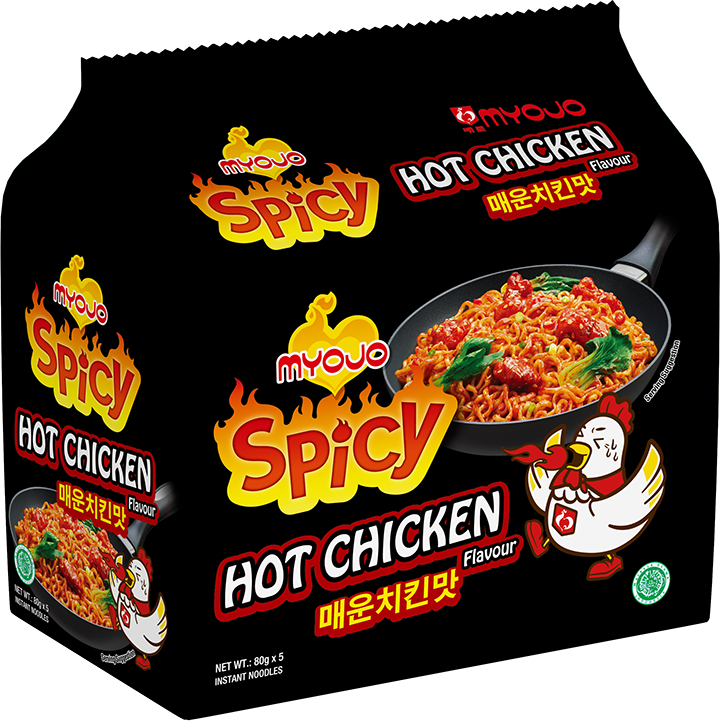 Myojo Hot Chicken flavoured noodles were specifically developed to suit those fans of Korean spicy noodles who love authentic Korean Hot Chicken flavours. This product is made of thicker noodles and is best described as a blend of Korean spice and hot chicken flavour.
Ingredients
Noodles
Wheat flour (contains iron, zinc, vitamins [B2, B1, folic acid]) (68%), palm oil (antioxidants [320, 321]), starch, salt, acidity regulators (339, 451, 500), stabiliser (412).

Seasoning Powder
Sugar, flavour enhancers (621, 635), salt, spices (pepper, chilli, onion), fermented soya bean (soya, rice flour, wheat flour), sesame seeds, soya sauce (soya, wheat), yeast extract, flavourings (shrimp, fish, acidity regulator [501]), colour (150d), hydrolysed plant protein (soya), acidity regulator (330), palm oil.

Seasoning Oil
Palm oil, sweet soya sauce (soya bean, colour [150a], preservative [211], acidity regulator [330], stabiliser [415]), paprika oleoresin, flavourings (chicken flavour, chicken fat, gochujang flavour, tomato flavour).

Nutritions
Average quantity per serving [80g]
Energy
1400kJ (330kcal)
Protein
7.7g
Total fat
11.7g
Saturated fat: 5.3g
Carbohydrate
49.2g
Sugars: 5.0g
Sodium
1280mg
Average quantity per 100g
Energy
1750kJ (420kcal)
Protein
9.6g
Total fat
14.6g
Saturated fat: 6.7g
Carbohydrate
61.5g
Sugars: 6.2g
Sodium
1590mg
Allergen
This product contains wheat, crustacean, fish, soya, sesame.